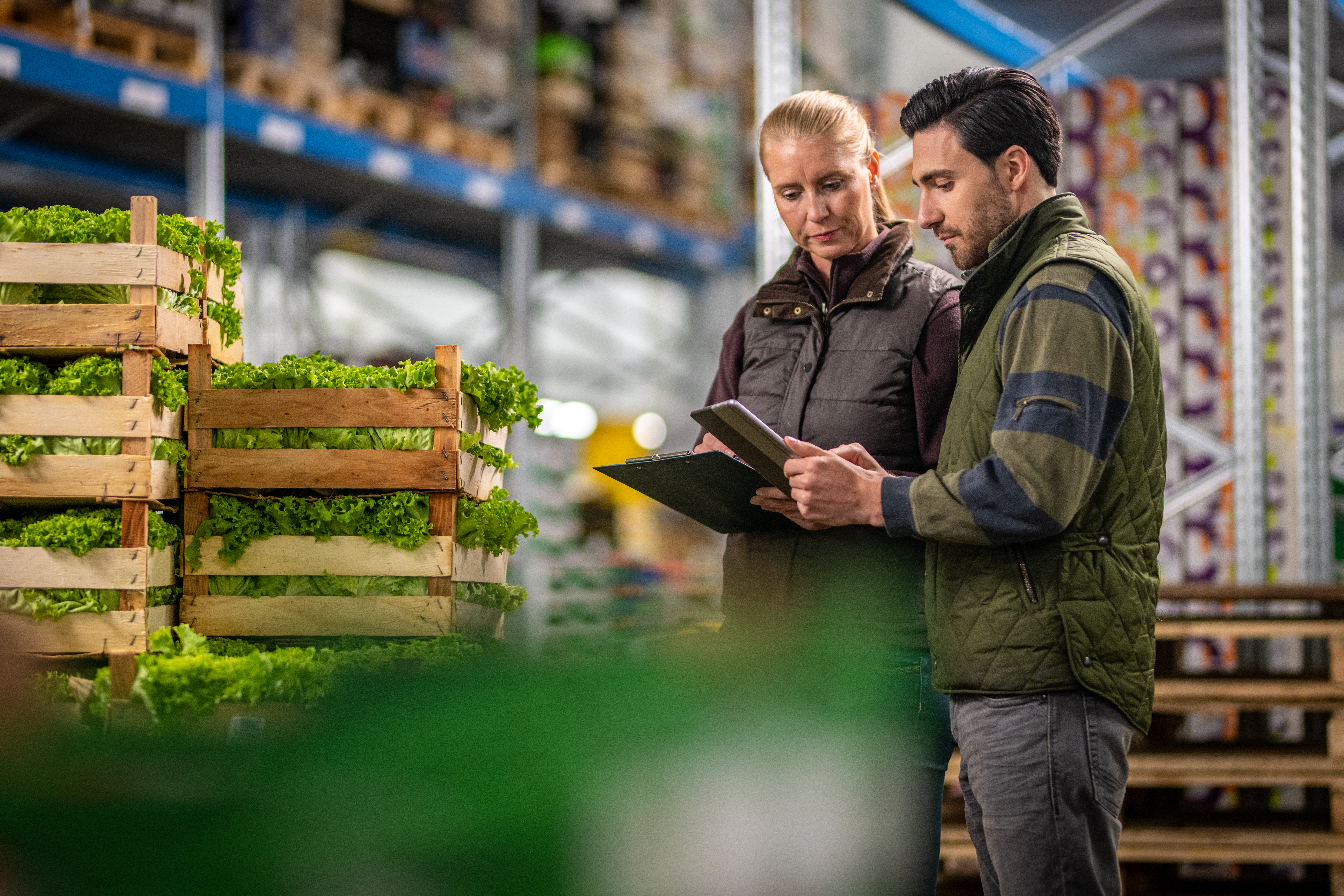 Whether it's internal communications within your produce warehouse or communication between the warehouse and sales distributors, you'll want information exchange to be seamless.
The supply chain often involves many hands and several moving parts, so it can be difficult to keep track of everything. Working in a warehouse can be particularly demanding due to the amount of coordination needed down the line. Therefore, warehouses rely on effective communication, and developing proper strategies for exchanging information can make the job much easier.
From cost-effective and labor-saving technology to better, more efficient practices, here's how to improve communication in your fresh produce warehouse. We'll also go over how Silo can help you level up your communications process.
Implement technology
Here are various technologies that can help with improving warehouse communications.
ERP platforms
Produce warehouses often make use of ERP platforms to increase efficiency in information exchange.
The main benefit of ERP solutions is that all of the important business data is centralized in one location. Employees can easily access the latest information on sales orders, shipping, and reports, all from one place.
This makes coordination faster and more effective, as it ensures greater clarity and transparency. It also reduces the likelihood of error, preventing miscommunications and conflict.
Having information so easily accessible also means that employees will be more encouraged to communicate based on real-time business data. You'll likely see increased engagement from workers, as they'll be more empowered to share successes and opportunities based on the latest reports.
Look for ERP solutions with inventory management to improve organization, reduce confusion, and enhance communication. Having a system keep track of your inventory will not only ensure that you'll be communicating accurate data, but can help with auditing stock. This will in turn prevent shortages and backlogged orders.
Radio frequency (RF) scanners
RF scanners can also be used to improve efficiency (and therefore communication) in your vegetables and fruits warehouse. Scanners allow workers to do their job more effectively, cutting down on the time needed to reconcile inventory and communicate stock information.
Barcode scanners are one of the most common and well-known RF scanners. They're handheld devices that allow you to scan barcodes, and are essential for most warehouses since they reduce work that would otherwise need to be completed manually. Employees use them throughout the warehouse during packing and shipping for outgoing and incoming orders.
When combined with an ERP solution, RF scanners allow for an automated inventory system. The information that's scanned is transmitted to the system, where you'd ideally be able to send shipping confirmations and print out packing lists.
Radios
Warehouse workers are always moving, making devices for portable communication essential. While smartphones for direct communication do the job, two-way radios are often preferred.
With radios, there's no need to dial or wait for someone on the other side of the line to pick up, which can go a long way in emergencies. Communication also won't be affected by intermittent cellular connections. Additionally, radios are durable and suitable for the kind of heavy-duty work that takes place in warehouses.
Develop procedures and protocols
Improving communication in your fruits and vegetables warehouse means developing procedures and protocols for information exchange. Having processes in place ensures that everything runs smoothly and according to plan.
For internal communications, it helps to have a designated person (i.e., a manager or a supervisor) assigned as a point-of-contact for workers to communicate with. This way, workers will know who to go to when issues occur.
The designated manager or supervisor should conduct check-ins on a regular basis face-to-face, as in-person communication is often the most reliable way to convey information.
When communicating with suppliers and distributors, ensure you have a system in place for overseeing orders and reporting. In particular, there should be a clearly-outlined plan for reaching out to and corresponding with suppliers for the first time. This will ensure a solid foundation for the new business relationship.
Plan out the frequency and medium for communication. Seamless status updates means that you'll deal less with shortages and ensure that deliveries are on time.
Take time to improve trade relationships
A fresh produce warehouse reaching out to suppliers and distributors when there are issues is commonplace, but to improve trade relationships, consider how and when you're contacting them. Avoid only communicating with suppliers and distributors when there's a problem, and instead, make an active effort to nurture your relationships.
Meetings once a month or once every quarter can allow everyone to come together and develop closer relationships. In addition to conducting reviews on a regular basis, take time to check in on how your trade partners are doing. A simple LinkedIn message can go a long way in maintaining a connection.
Silo improves communications
Needless to say, communication for produce warehouses is vital for your business' success. Implementing technologies can drastically improve your processes.
Silo is a produce ERP platform that provides a medium for communication to keep you and your partners connected. Streamline operations and enhance your trade partnerships using our platform.
Silo improves vendor relationships, business transaction management, and internal communications by centralizing data. Select what you want to share and automate updates, emails, and texts for a simplified and worry-free experience. Your partners will feel informed, and you'll continue being preferred.
You can also access sales and collaboration history. Get a comprehensive history of transactions and lots, and easily access stakeholder interactions across your orders quickly. It's an all-in-one solution for communication and business transaction monitoring.
Stop the back and forth. With Silo's platform you'll benefit from smoother transactions and improved operations. Send and receive documents, oversee inventory with real-time clarity, and dive into lot details with ease.
You can monitor expenses and keep track of your produce, leveraging lot performance insights and aging inventory reports to prioritize your product.
Unlike other solutions on the market, Silo embeds access to working capital, bridging cash flow gaps and empowering you to sell more in the same period of time, leveraging market insights to guide your moves.
Looking to improve the way your warehouse exchanges information?