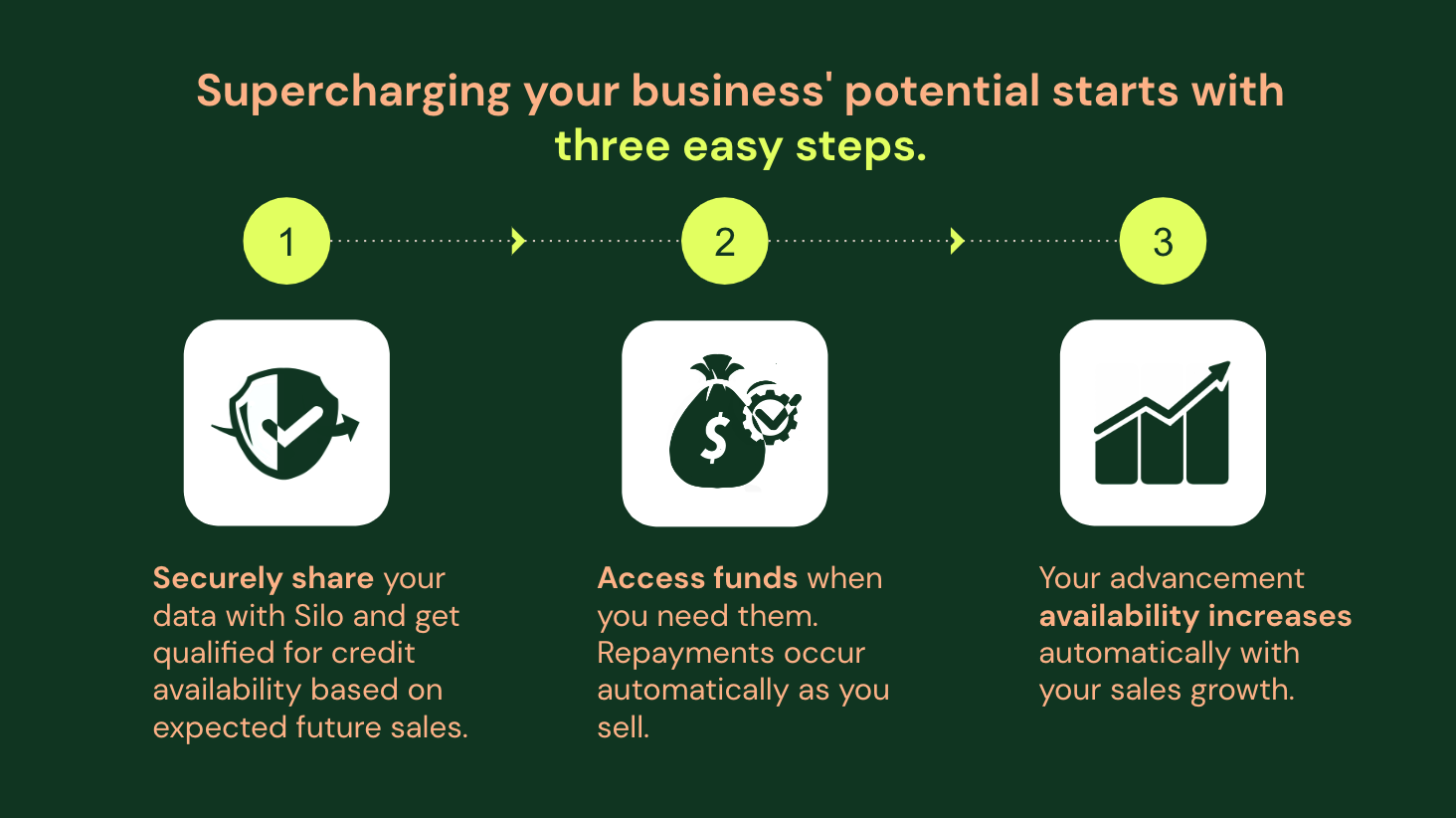 We're here to help you thrive.
Can you see your business in any of these real-world examples?
"If I can pay my vendors/growers up front, I'm able to capture a 10% discount."
"My company's farm isn't usually able to keep up with sales demand. With Silo Cash Advance, I'm able to fund more product purchases from other growers to fulfill that sales demand."
"Historically, I've only sold tomatoes. My grower/vendor provides a handful of other commodities. Silo Cash Advance has allowed me to provide capital to my grower/vendor so that I can secure those additional commodities, and grow my business."
"I like to have a safety net in case expenses are higher than I expect throughout the year. For example, this year, berries are more expensive than they've ever been. I'm able to access a cash advance to ensure I have the supply to meet demand."
"I typically have strong cash flow but there are certain times of the year where I need some extra capital to meet demand or expand my business. I'm able to take advantage of the flexibility of the cash advance and draw on it immediately when I need the money and keep it on-hand at no extra cost when I don't."
"I'm able to automatically qualify for larger amounts as my business grows, with very little additional input on my end compared to a credit line with my bank."
Pursue business opportunities with confidence...
"With Silo Capital, I am able to focus on growing my business relationships and pursuing larger, more established customers with the confidence that I'll have the funding I need to support my growth."

- Gilberto Mendez | Controller | Avoworks


A better financial partner...
"Simply put, Silo gets it. They've created a seamless underwriting process that has the right systems in place to create win-win scenarios for their customers."

- Harry Weisman | President & Co-Founder | PH Distribution


When opportunity knocks, you're ready...
"Coming from the banking world, Silo's approach to underwriting is built for this industry. They helped us secure financing quickly, securely, and we continue to partner with them."

- Donald Carter, Chief Financial Officer, GreenFruit Avocados, LLC
Silo Cash Advance FAQs
How much credit am I able to qualify for?
Your total credit line size depends on the amount of sales revenue expected over the next 6 months that are received through Silo's collections platform. Your total available balance will be a factor of your projected monthly sales and can increase and decrease quarterly based on your business growth.
What does Silo need from me to qualify for a credit line?
Getting approved is fast and easy through one-step process to share your company information. Silo will review the last 12-24 months of your company's financials and sales and customer payment history via a simple, automated account linking process. Silo will use that information to size your credit line amount based on a forecast of your next 6 months of sales. You can select how much, from your total available amount, you want to receive and how many months you want to repay (3 or 6). Silo will set a % of sales to be collected each month and send you a schedule that will be updated with each payment so you have constant visibility to your available credit amount.
Does Silo need to communicate with my customer?
No. We have designed our Capital programs so that you maintain control and ownership of your customer relationships. Silo does not need to contact your customer during the review process nor during the collections process. Any communications required will come from Silo to you, so that you can continue to be the primary point of contact for your customers.
How do I repay the credit line?
Each draw on the credit line will include an agreed upon amount, repayment period, and % of monthly sales collected for repayment. You will receive an overview of the full repayment schedule for review after each draw on the credit line. You may draw any amount up to the total available credit limit. The standard repayment period is 3-6 months with no mandatory repayments on the first month. Repayments will be collected automatically as a set percentage of your sales.
How much can I draw from the credit line at one time?
You can draw any amount up to the maximum available credit amount.
How often can I draw from the credit line?
You are eligible to re-draw from the credit line if 1) You have repaid at least 25% of all previous draws from the credit line and 2) You are not currently late on any repayments. Note that each credit line draw will have its own repayment schedule.
What rates do you offer?
Our upfront fee varies based on the repayment period you select (3-6 months) and Silo's review of your financials. The fee % will always be clearly outlined for your review in the repayment schedule Silo generates for any draw.
Ready to get started?