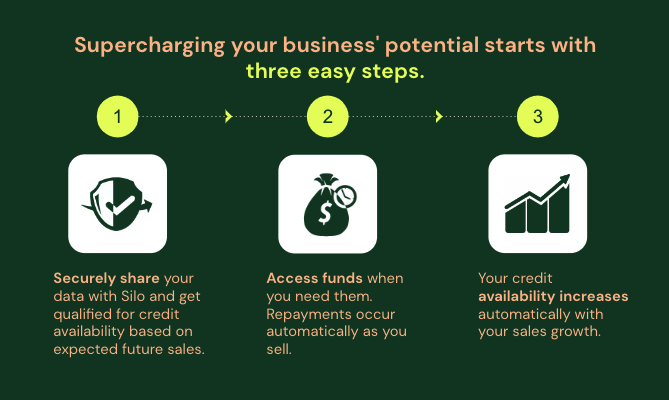 We're here to help you thrive.
Can you see your business in any of these real-world examples?
"I typically sell to Customer X once per month but, since I now get paid more quickly, I have the capital to buy and sell to this customer 2-3 times per month."
"My customers typically pay me in 21-30 days, but I have to pay my vendors in 15-21 days, so the more I sell and the faster I grow, the larger the gap in cash that I need to cover. Instant Pay covers that gap by paying me in 3 days, giving me the consistent, reliable cash flow I need to grow my business with confidence."
"Since starting with Instant Pay I've been able to acquire two new customers by providing them with more favorable payment terms since I know I can rely on Instant Pay for funding upfront."
"Since starting with Instant Pay I've been able to strengthen my relationship with several vendors, while capturing 10%+ discounts due to my ability to pay them more quickly and/or buy in greater quantity."
Funding that's approachable and connected...
"The way Silo is building access to working cash flow into our overall process is exciting. They are thinking about our entire business process."

– Xavier Ponce |Operations Manager |Carcione's Fresh Produce Company
Funding that gives your business a boost...
"Silo Instant Pay is my top secret bridge and facilitator of new business."

- Cesar Garcia | Sales Director | New Mundoexport Fruits
Silo Instant Pay FAQs
What rates do you offer?
Our standard rate is 2% per invoice funded. This drops to as low as 1.5% if you are a Silo software user.
When a customer pays me will my business name be on the check or will Silo's name be on the check?
Your business name will be on the check and/or ACH payment and your customers will continue to pay you (just to a different address and bank account). Silo operates a custodial bank account where we are authorized to deposit and transfer funds on your behalf.
Will my customer send money to Silo's bank account or to mine?
Customer payments are received into a Silo custodial bank account, then transferred to your business account, less any fees and withholdings. Funds typically arrive within 1-2 business days of receiving the customer's payment.
What does the initial review and approval process look like?
Getting approved is fast and can be completed in three easy steps: First, we will review the last 12-24 months of your sales and customer payment history via a simple, automated account linking process. Second, we'll help you notify your customers that you are updating the address and bank account for customer payments (they will still address payments to your company name, only the mailing address and bank account number change). Last, you'll provide Silo with your company's bank account info so Silo can send funding directly to your account.
Does Silo need to communicate with my customer?
No. We have designed our Capital programs so that you maintain control and ownership of your customer relationships. Silo does not need to contact your customer during the review process nor during the collections process. Any required communications will come from Silo to you, so that you can continue to be the primary point of contact for your customers.
Can I select which invoices go through Instant Pay?
Invoices are qualified and automatically funded at the customer-level. You can let us know if you'd like to add new buyers or pause / resume funding on an existing customer.
What percentage of the invoice will Silo fund initially?
Silo will initially fund up to 90% of the invoice. This is based on a buyer qualifying through our underwriting process and can range from 70%-90% based on your history with that customer, their timely repayment rate, whether they are paying you through Silo, and whether there are any open claims against that customer.
How quickly will I receive money from Silo?
You will receive funding for an invoice within 3 business days of fulfilling the invoice.
What happens if my customer pays late? What if they don't pay at all?
Late fees will start accruing after a 14-day grace period (see our Instant Pay agreement for the current late fee schedule). If your customer does not end up paying the invoice, you will need to repay the balance owed to Silo.
You always have the option to repay the funded amount, plus fees, in order to clear your balance and avoid additional late fees. Through Silo's collections service, we will automatically apply any incoming payments to clear your balance before they become overdue (you will receive a daily summary of withholdings).
What happens if my customer rejects some, or all, of my product after Silo has advanced me funds?
The repayment amount and fees will be continue to be based on the invoice balance at the time of advance.
If the adjusted invoice balance is greater than or equal to the advance amount and the fee, Silo will withhold a larger percentage up to the full amount of the payment we receive from your customer.
If the adjusted invoice balance is less than the advance amount, Silo will withhold any other sales receipts until the balance is equal to the advance amount plus the fee. As with any funding, you can always send Silo an ACH to clear any difference.
Ready to get started?
We'll show you what's possible.